Wild Rabbit
---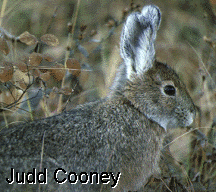 Rabbit meat does not have much nutritional value. Early French settlers in Quebec ate plenty of rabbit meat every day during their first winter and suffered heavily from malnutrition.
Offered by Chris.
With regard to wild rabbits, I've read in several sources that on a diet of strictly wild rabbits you can starve to die; due to the lack of nutrients in wild rabbits. You need to check in the internal organs closely while cleaning because wild rabbits carry several diseases that they can transmit to humans. Check the liver and heart very closely for green spots.
Offered by Mike G.
And check the liver for white spots also.
Offered by Clipper.